Longevity Series

Lightweight comfort and extended operating time
High performance doesn't have to be cumbersome. The M4000 gives you the power you need to tackle longer jobs, and Vuzix is the only solution on the market that allows for true hot swapping. Switch out your battery on-the-fly without powering down.
All day comfort with a durable viewer weighing just 3.5oz
Ultrabright see-through waveguide with expansive 28 degree field of view
Hot swap battery replacement for zero down time when switching batteries
Long use 3,350 mAh Anker headworn power bank and headband available with Extended Series
Powerful 2 to 12 hour run time based on battery choice and application
Don't miss a detail with a PDAF 12.8mp auto-focus camera and 4K 30fps video streaming at optimal output
Longevity Series
Accessories for any job
The M4000 Starter Kit adds all of our most popular M-series head mount accessories and an extended use power bank to give you the longest, most comfortable fit for your M4000. Flexible mounting options make it compatible with almost any hat, helmet, face shield or glasses.
Kit includes:
Helmet Mounts
Headband
Hat Mount with Vuzix Hat
Extended life 3,350 mAh USB-C power bank
Safety Glasses (medium)
View the complete list of M4000 accessories.
Longevity Series
The M400 and M4000 series smart glasses are built on the latest "state of the art" technology available and as such are part of Vuzix M-Series longevity solutions. From the OS and OS upgrades, to software support and system security right through to the smart glasses themselves, these solutions are premier in the industry and here for the long haul. We know there is a lot of time and resources invested into new technology deployments. Vuzix intends to support that investment for our customers. From compatibility to the latest technology, you get the best from Vuzix.
Technical Specifications
Optics
See-through Waveguide optics²
Display resolution: WVGA color display 854x480
Display type: DLP
Aspect ratio: 16:9
Field of View (diagonal): 28 degrees, equivalent to a 9" mobile device screen seen at 18"
Brightness: 5000 nits
Contrast: > see through 1000:1
24-bit color
Supports left or right eye use
General
8 Core 2.52Ghz Qualcomm XR1
6GB LPDDR4 System RAM
64GB internal flash memory
Android 9.0 OS
OS and apps OTA upgradeable
MDM available from multiple partners
Certifications³
IP67 Rated (Longevity Series)
Drop safe to 1 meter
IEC60601-1-2:2014 Medical Device
Mounting options
Vuzix M-Series Rail Eyeglass frames without lens (standard)
Viewer weighs less than 3.5 oz.
Eyeglass frames with lens
Safety glasses
Hard hat mount
Headband (Standard)
Peltor headphone mount
Battery
135 mAh internal battery supports hot swapping of external batteries
750 mAh IP67 certified USB-C battery with 3-level LED indicator (Longevity Series) or an extended life 3,350 mAh USB-C power bank (Extended Series)
Can be powered by 3rd-party USB battery packs in place of head-worn battery
2 – 12 hours of operation based on external battery choice
Controls
3 control buttons
Voice control – customizable and supports multiple languages
2 axis touchpad with multi-finger support
Audio
Integrated speaker (up to 97db output)
Triple noise-cancelling microphones
BT audio: HSP / A2DP
Camera
Up to 12.8-megapixel stills
Up to 4k30fps video
Improved auto-focus (PDAF)
Improved optical image stabilization
LED flash/scene illumination
Barcode scanning
Connectivity
USB 3.1 Gen 2 on USB Type-C
Wi-Fi 2.4/5Ghz 802.11 a/b/g/n/ac
Bluetooth 5.0 BR/EDR/LE
Head Tracking
3-degree of freedom head tracking
3 axis gyro
3 axis accelerometer
3 axis mag/integrated compass
Supported Languages
English
Spanish
French
German
Mandarin Chinese
Japanese
Environment
Operating temperature -20ºC to 45ºC/-4ºF to 113ºF
Operating humidity 0-95% RH
Storage temperature 10-45ºC
Storage humidity 0-95% RH
How-To Videos
Major Market Solutions
Powered by Vuzix Smart Glasses and Our Solution Partners
Companion App for your phone
The companion app for Android and iOS enables easy set up and communication between your smartphone and M400. The app benefits from monitoring for your smart glasses, access to apps, and a keyboard.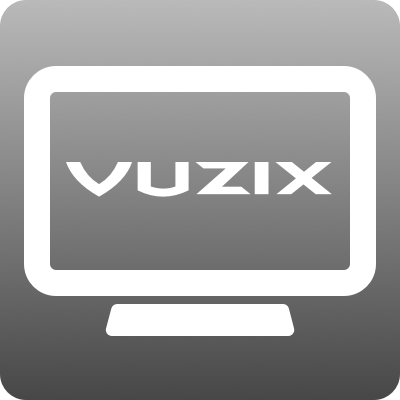 Vuzix View
The new Vuzix View mirrors and controls the screen of your Vuzix device to your Windows PC or MAC computer.
Learn More
Learn more about M4000 Smart Glasses
If you are interested in the M4000 Smart Glasses or would like more information, please fill out the below form. Please read our Privacy Policy to see how we manage your data.