Vuzix Blade™ Smart Glasses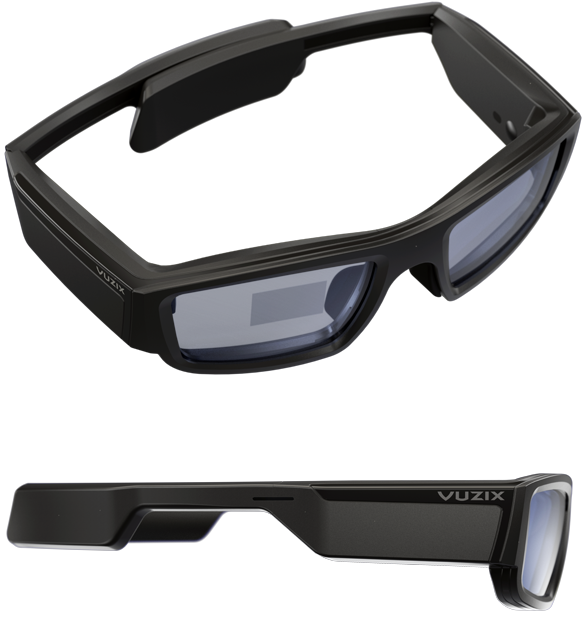 Vuzix Blade™ Smart Sunglasses
The Vuzix Blade™ Smart Sunglasses provide a wearable smart display with a see-through viewing experience utilizing Vuzix' proprietary waveguide optics and Cobra II display engine. It's like having your computer or smartphone screen information with you wherever you go. Vuzix Blade™ Sunglasses with vibrant full color monocular display does it all with style and performance, providing immediate heads up access to information that wearers would normally have to view by looking down at their smartphone or smartwatch.
Never before has a product been designed where you can see overlaid information, indoors or out, such as patient data, GPS mapping directions, restaurant menus, weather information, alerts and more without picking up a second screen. Truly revolutionary, the Blade™ Sunglasses are a perfect companion to a smartphone, allowing users to keep their phone in their pockets for almost everything. Finally fashion meets technology in the wearable display arena.
The Vuzix Blade™ supports Wi-Fi and Bluetooth connectivity for standalone or smartphone connected use; wirelessly displaying virtual information – similar in many ways to a smart watch. You can also view social media messaging, text, maps, notifications, etc., from both Android and iOS smartphones. Designed specifically for the exploding digital information world that wants mobile access – anywhere, anytime and connected to the real world.
Vuzix Blade™ Smart Sunglasses include an integrated HD camera, head-motion tracker, touch pad, tactile haptic vibration feedback, built-in noise cancelling mics with speech recognition and of course built-in batteries. The smart sunglasses will run Android on its modern internal processor and is completely wireless.
Vuzix Blade™ – Binocular Waveguide Video Viewer
This binocular waveguide video viewer leverages both our see-through waveguide optics and ultra-slim "Cobra" display engines with support for a wired HDMI interface and a small tethered battery pack. It's ideal for watching videos from almost any HDMI source, supports 3D video and includes a head-motion tracker for interactive video viewing. It also includes built-in noise canceling mics and allows for easy connection to your favorite earbuds or headphones.