Vuzix Blade Upgraded Smart Glasses are complete with personal protective eyewear support out of the box. They deliver a hands-free connection of the digital world to the real world, providing unprecedented access to location-aware information, data collection, remote support communications with both audio and video, and more.
The Blade Upgraded Smart Glasses benefit from the same features as the regular Blade and now include an auto-focus 8-megapixel camera, built-in stereo speakers, and advanced Vuzix voice control. No BT headset is required. With these smart glasses, all users now also enjoy the extra peace of mind that comes with their ANSI Z87.1 certification. Prescription inserts are also optionally available for most required vision corrections.
The Blade Upgraded Smart Glasses is one of the first all self-contained augmented reality smart glasses available. The see-through Waveguide optics merge digital instructions onto real-world tasks, removing distractions, vision occlusion and thereby reducing error rates. At the same time, the wireless device is a complete AV communications tools for remote support applications. Blade Upgraded Smart Glasses safely enable remote operations while maintaining focus on your work and keeping eyes safely protected.
Autofocus HD Camera
Integrated Stereo Speakers in Temples
Noise Cancelling Mics
Full Color Display (Right-eye only)
Wireless Wi-Fi and Bluetooth
Full UV Protection Lenses with Safety Certifications
Technical Specifications
Optics and Electronics
Waveguide based see through optics
Cobra II DLP based display
Vibrant full-color DLP display
Quad Core ARM CPU
8-megapixel camera, auto focus, supports 720p 30fps or 1080p 24fps
Android OS
Audio
Full BT functionality
Noise canceling microphone
Stereo Integrated Speakers
Controls
Touch pad with gesture
Head motion trackers
Remote control app for Android & iOS device
Connectivity
MicroSD expansion slot
Wi-Fi and BT wireless
Micro USB
Versatile Eyeglass Options Available
All lenses standard UV protection
Battery
Internal LiPo rechargeable batteries
Vuzix Blade Sunglasses Clip-on
For those really sunny days, the Vuzix Blade Sunglasses Clip-on is a great accessory!
TAC Polarized Lenses: TAC lenses are thinner than ordinary PC or AC lenses, only about 0.74mm in thickness but more durable and flexible than ordinary PC or AC lenses. Normal sunglasses lenses can only reduce sunlight, but polarized lenses can reduce the glare from sunlight, especially the glare from surface of roads, lakes and windows;
Clip-On sunglasses for the Vuzix Blade: These are rimless clip on sunglasses designed to fit over the Vuzix Blade, you simply need to clip and attach it onto your Vuzix Blade Smart Glasses and flip the lenses up if you don't need the shades temporarily;
UV-400 Lens: 100% UV protection and anti-glare from sun light.
Collar Power Bank
The Collar Power Bank is a 2850mAh battery designed specifically for the Vuzix smart glasses
Ten times the battery capacity of Blade for 10 hours of run time under normal operation.
The battery is worn around the neck to comfortably and conveniently extend the run time of the glasses.
It also provides pass-through audio from the Vuzix Blade Model 447 to headphones.
Blade Customized to Your Prescription
Your favorite smart glasses are available with prescription lenses, so you can enjoy Blade augmented reality experience at its best
To order your Blade Prescription Inserts you will need the below:
Copy of valid Prescription with physician's information visible.
The following information can be entered during checkout:

PD (Pupillary Distance)
Sphere and Cylinder
LEARN MORE
How-To Videos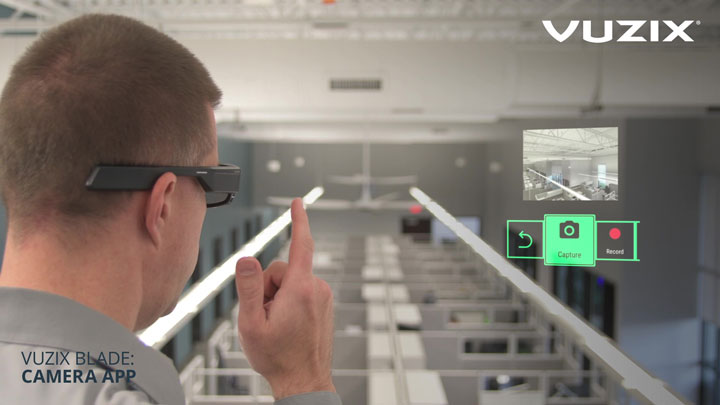 Companion App for your phone
Download and install the Vuzix Blade Companion App from the App Store or Google Play. The Companion App enables easy setup and customization of your Blade and manages the communication link between the Blade and your smart phone.
Google Play and the Google Play logo are trademarks of Google LLC. Apple and the Apple logo are trademarks of Apple Inc., registered in the U.S. and other countries and regions. App Store is a service mark of Apple Inc.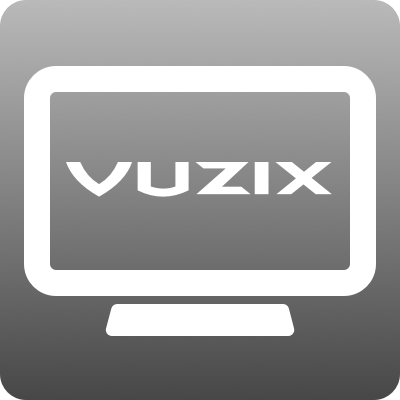 Vuzix View
The new Vuzix View mirrors and controls the screen of your Vuzix device to your Windows PC or MAC computer.
Learn More
DJI Drone
Fly your DJI™ drone while using the Vuzix Blade® Smart Glasses.
Learn More
Major Market Solutions
Powered by Vuzix Smart Glasses and Our Solution Partners
Blade Enterprise White Paper
Smart Glasses Technology – Changing the Way We Work
Vuzix Blade Smart Glasses allow people to do their jobs, link to critical knowledge sources, and connect to each other—seamlessly and remotely. They are hands-free devices that can be used in nearly all work-related functions. The use of Vuzix Smart Glasses facilitates significant gains in cost savings, efficiency and accuracy.
Learn about our business and industry benefits by reading our Blade Enterprise White Paper.
Download
Learn more about Vuzix Blade Upgraded Smart Glasses
If you are interested in the Vuzix Blade Upgraded Smart Glasses or would like more information, please fill out the below form. Please read our Privacy Policy to see how we manage your data.