Our M300XL accessories provide a variety of comfortable all-day wearable options for the enterprise worker. Our M300XL Starter Kit includes some of our top selling accessories with a focus on employee performance and safety. You can view the complete list of M300XL accessories here.
Add the flexibility of using all the top selling viewer mounting options in one kit. With the M300XL Starter Kit you get the most advanced product in the Vuzix M-Series family, plus:
Safety Glasses Frames (medium size)
Headband
Hat Mount with Vuzix Hat
Power Bank 3350
The M300XL is the entry-level smart glasses device in our M-Series product line. These smart glasses provide an agile workplace, with fully connected staff and managers.
These comfortable smart glasses support a range of accessories which make them easily adaptable for operations within warehousing, field service, tele-medicine and manufacturing.
Industry operations are facilitated by the wide-range of apps available, a built-in HD camera, AMLCD display, and more. The M300XL is the ideal workplace companion for managers and business owners seeking to improve efficiency at a lower cost.
Standard USB Connections
Auto-Focus
Longer Battery Life and Improved Power Management
10-Megapixel Camera Sensor
External Wi-Fi USB Option
Power LED Display
Supports a large selection of M-Series Smart Glasses Mounting Options & Accessories
Compatible with M300 OS
Technical Specifications
Optics
Display resolution: nHD color displays
Aspect ratio: 16:9
Field of View (diagonal): 16.7 degrees, equivalent to a 5 in. mobile device screen seen at 17 inches.
Brightness: >2000 nits
24 bit color
Supports left or right eye use
Dual Core Intel Atom CPU
2GB system RAM
Android 6 OS
64GB internal flash memory
Universal Mounting Options Available
Eyeglass frames with or without lens
Safety glasses
Hard hat mount
Headband mount
Controls
4 standard Android control buttons
Voice control – customizable and supports multiple languages
2 Axis touchpad with gesture
Battery
160mAh internal battery supports hot swapping of external batteries
860mAh smart external battery
Supports USB batteries providing at least 1 Amp
2 – 12 hours of operation based on external battery choice
MicroUSB 2.0 HS
Wi-Fi 2.4/5Ghz 802.11a/b/g/n/ac MIMO 2x2
BT 4.1/2.1+EDR
Integrated head Tracker
3-degree of freedom head tracking
3 axis gyro
3 axis accelerometer
3 axis mag/integrated compass
Audio
Ear speaker
Dual noise canceling microphones
Camera
Up to 10 megapixel stills
Up to 1080p 24fps video
Fast Auto-Focus (~1 second response time)
Optical Image Stabilization
Flash/scene illumination
Sensor Systems
Proximity inward facing
Proximity/ALS outward facing
Supported Languages
English
Spanish
French
German
Mandarin Chinese
Japanese
How-To Videos
Major Market Solutions
Powered by Vuzix Smart Glasses and our Solution Partners
Companion App for your phone
The companion app for Android and iOS enables easy set up and customization, with simple communication between your smartphone and M300XL.
Google Play and the Google Play logo are trademarks of Google LLC. Apple and the Apple logo are trademarks of Apple Inc., registered in the U.S. and other countries and regions. App Store is a service mark of Apple Inc.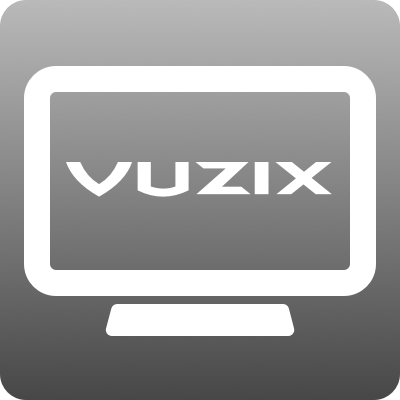 Vuzix View
The new Vuzix View mirrors and controls the screen of your Vuzix device to your Windows PC or MAC computer.
Learn More